STUDIO PORTRAIT OF THE SOCCER CLUB THE FREMANTLE RANGERS.
ADAMSTOWN ELLIS CUP WINNERS 1905
Back: T Jennings Trainer, F Rushman Linesman, R Matthews Chairman, W Da ? (Day ?) Vice President "

Next Standing: J Pollock Hon Treas, J Hall Vice Pres, W Ambler Vice Pres, R B Talbot Pres, A Edden MLA Patron, S Powell Vice Pres, D Filby Vice Pres, J Roddom Delegate

Sitting: J D Hamilton Sec, F Elgey, J Watt, J Nix, RR Elgey Capt, J Doyle, F Jennings, W Harris, R Lord Manager

Front: M O Hagen, W Maxwell, W F Hamilton, George Thomson 'Tam'Russell (holding the ball), E Clarke, David Gibson Russell (brother of George)
(TROVE)
MINMI RANGERS FOOTBALL CLUB.
-1900-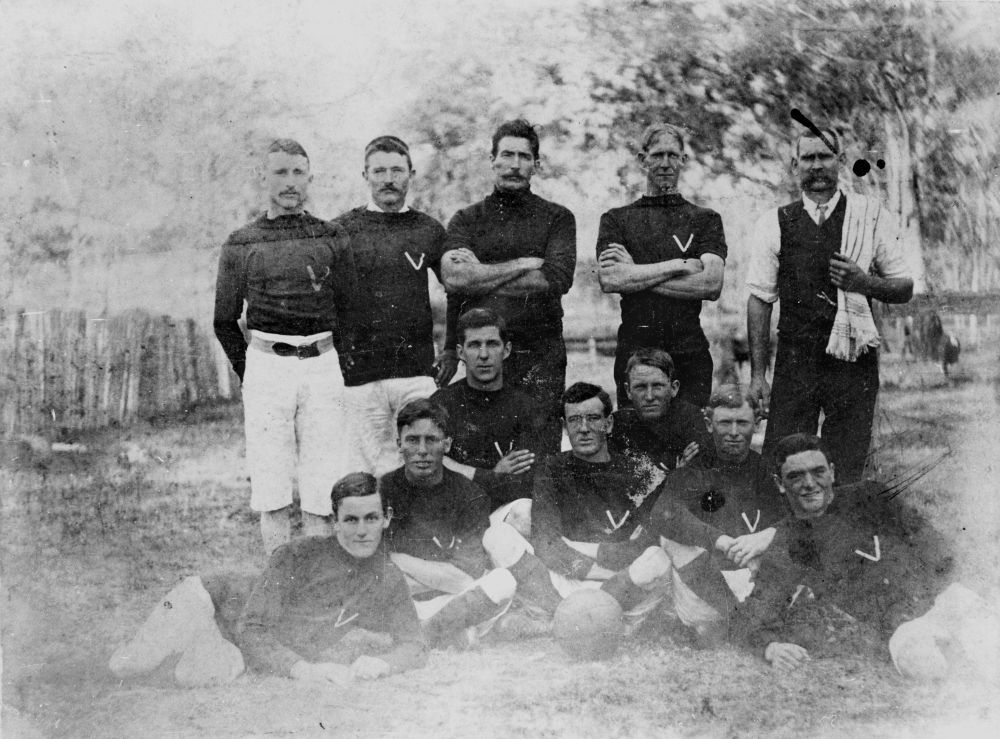 FOOTBALL TEAM FROM THE KILCOY DISTRICT, CA. 1900
Brisbane John Oxley Library, State Library of Queensland
ST KILDA BRITISH FOOTBALL CLUB PLAYERS POSING AT THE MIDDLE PARK SECTION OF ALBERT PARK AND LAKE.-
1909
Carlingford Public School Football Club Barlow medal winners 1905