The Weston Magpies Soccer Team, 1915
Shot for goal in a soccer match, Brisbane, ca. 1914 (at the ground now known as Memorial Park, Bulimba)
Rag-tag Second Grade Association Football Club 1913
Ipswich and West Moreton British Football Association executive and team that defeated NSW by 4 goals to 1, 1914
Back row - L. Lonie, A. Shearer, V. Finnimore, J. Sharp, T. Weller, T. Sharp (Chairman), J. Potts, R. Kemp (Referee). Middle row - W. Scott, W. Kerr (Treasurer), A. Gibb, W. Paterson, G. Simpson (Captain), G. Burns, D. Potts, T. W. Crane (Hon. Secretary). Front row - A. Heaton, R. Scholes, T. Wade, J. Breslin, C. H. Pearce.
(TROVE)
Railway Rovers Association Football Club, ca. 1912
Back row - R. Lomas, A. France, J. Fulton, J. Allan, F. Burke, W. Hyslop, J. McCowatt, J. Gowanlock. Middle row - J. Cardwell, J. Law, W. Mansfield. Front row - J. Hill, G. Lowten, S. Williams. (Description supplied with photograph.)
(StateLibQld)
Dinmore Bush Rats, 2nd Premiers, Ipswich, 1910
Tarrawanna Sweet Hearts-1913-
Granville and District Football Club, 1912. John Nobbs' distinctive figure at the centre of the top row. The goal-keeper laying on the ground is Eric Mobbs, who later became Mayor of Dundas and Parramatta. Parramatta Heritage Centre, Granville and District Football Association Collection
Parramatta Heritage Centre)
Carlingford `Merry Farmers' Football Club, 1914
The South Hobart Football Club is one of the oldest football clubs in Australia and celebrated its 100th Anniversary in 2010. On the 21st May 1910 the first official game was played by South Hobart against Westralia at the newly opened South Hobart Ground. The result went in the home teams favour with a 4-1 win for the newly established Club.
(southhobartfc)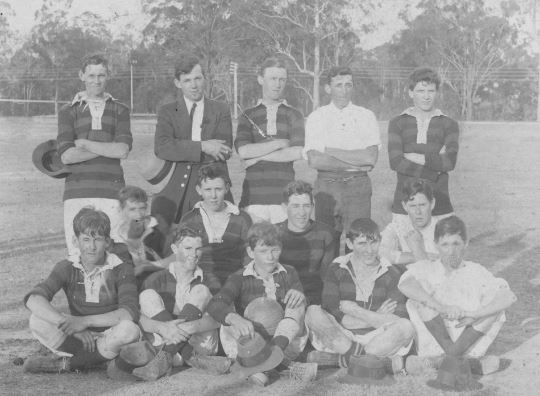 Blackstone Rovers Soccer Club, 1910-1920
Dinmore State School, soccer team, Dinmore, Ipswich, 1912