Australian tour of new zealand
1922
An Australian team toured New Zealand in 1922 for a three match series. This was the first time an Australian team had played and the "Socceroos" were born. The tour of New Zealand included three A internationals and eleven tour matches.. The Australian team was made up of players from NSW and Queensland only. A notable matter was that they wore the colours light blue (for NSW) and maroon (for Queensland) in that game.
A drawing from British born artist Martin Stainforth, who is known in the art world for his paintings of thoroughbred racehorses. The drawing was published in the Sydney Mail on the 10th of June 1925.
This drawing is from a NSW vs English Touring Team game in 1925 on the 30th May or 8th June.
The drawing shows the New South Wales attack trying to put the ball into the English goal, but being thwarted by the English right back, who clears the ball.
(Balgownie Rangers)
Latrobe Ladies' Football Club, 1921
(www.withtheballatherfeet.com.au)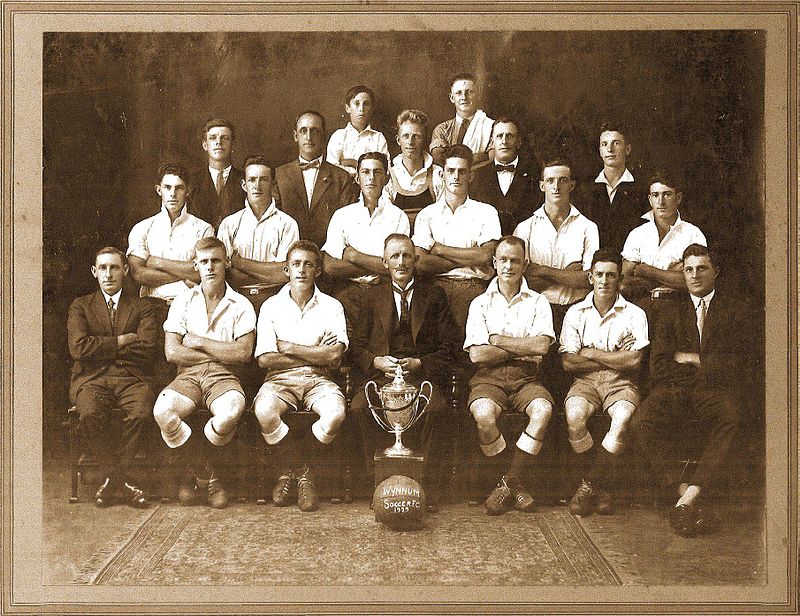 Wynnum Soccer Football Club 1929
Brisbane City Ladies' Football Club, 1922
(www.withtheballatherfeet.com.au)
Australia's first A international game was on a Saturday June 17 1922 at Carisbrooke Park, Dunedin .
Australia lost this day 3 -1 to New Zealand
Players:George Cartwright, Alan Fisher, Dave Cumberford, Alex Gibb(c), C Shenton, Peter Doyle, William Dane, Jock Cumberford, Bill Maunder, Dave Ward, Tom Thompson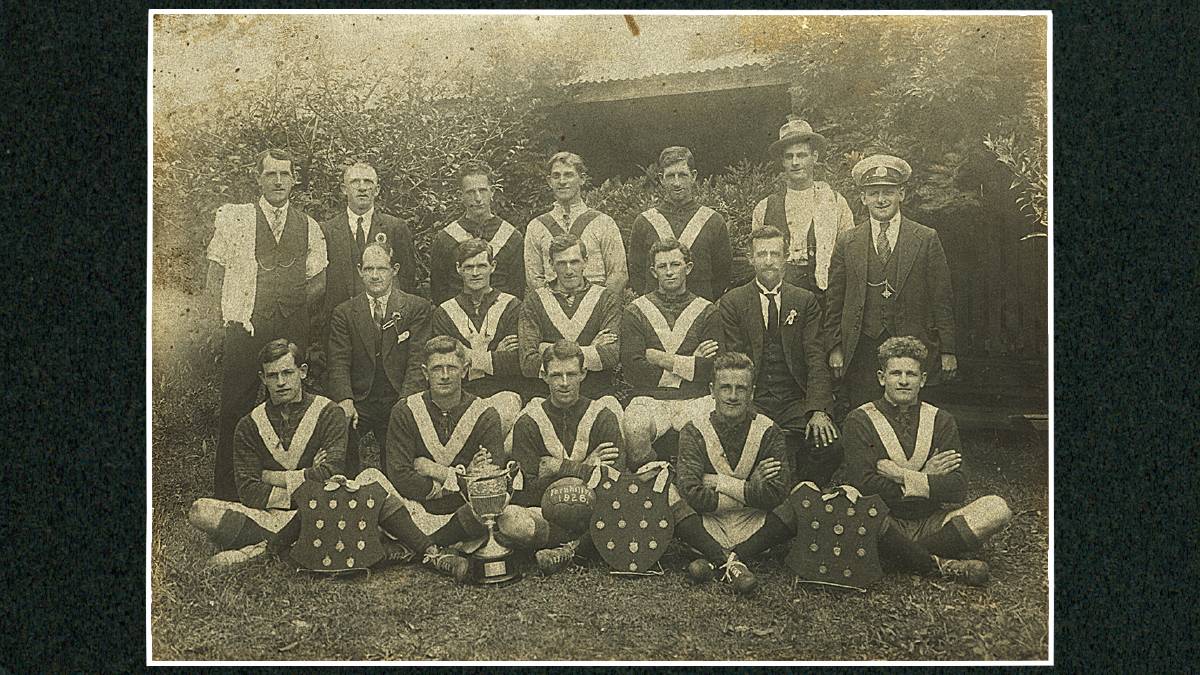 (Wollongong City Library)
Australian team for visiting New zealand side-1923-
This was the first tour by an international side and the first full A international match played in Australia. The New Zealand national team toured Australia playing three matches against the Australian national side plus a number of other games against local representative teams.
1921 – First Grade & Supporters
Balgownie Rangers
Top Row: Herb Masters, Tom Batey, Peter Hunter
Middle Row: Scotchy Learmont, Scamp Johnson, Dick Johnson, Hilly Johnson
Front Row: George Guest, Dave Ward, Judy Masters, Tommy Thompson, Arther McMahan
An English FA side toured Australia in 1925. When the visiting English FA side arrived they played two "exhibition" matches against an Australian XI in Adelaide and Melbourne in preparation of the first "test".
Jack Elkes of England shoots for goal in the match against Western Australia at Fremantle Oval on 9 May 1925. The Western Australian players from the left are T Boyle, Richard Utting, the skipper, and Harold Boys.
In July and August 1928, a representative side from the Australian Football Association (A.F.A.) visited the Dutch East Indies and Singapore.
Australian team for canadian tour of australia
-1924-
Australia played a series of five A internationals against a visiting Canadian side.
Won 3,Lost 2,Drew 1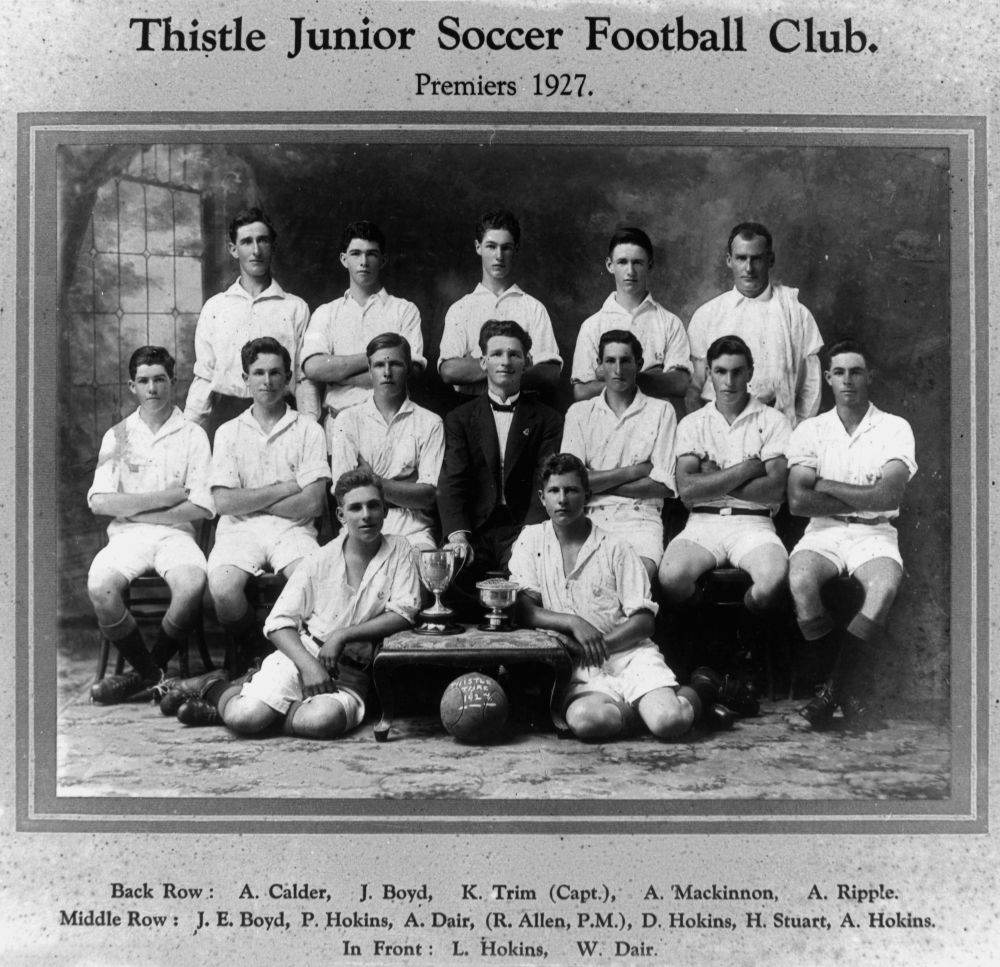 Thistle Junior Soccer Football Club, Premiers 1927
Back row - A. Calder, J. Boyd, K. Trim (Captain), A. Mackinnon, A. Ripple. Middle row - J. E. Boyd, P. Hokins, A. Dair, (R. Allen, P. M.), D. Hokins, H. Stuart, A. Hokins. In front - L. Hokins, W. Dair. (Description supplied with photograph.)
(StateLibQld)
The Australian team which played China at Newcastle in 1923. Judy Masters, who captained Australia in 22 international games, was known for his agility and sportsmanship, and is pictured in the front row with the ball.
(Illawarra Remembers)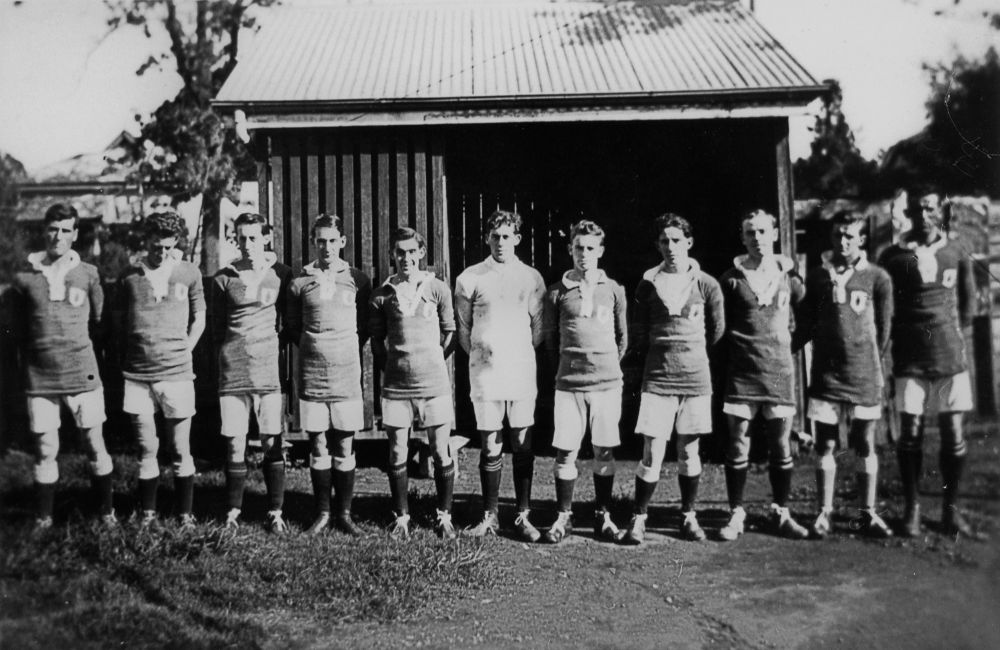 Pineapple Rovers Soccer Club, Kangaroo Point, ca. 1924
Brisbane John Oxley Library, State Library of Queensland
Queensland Schoolboys Soccer Team, 1922
Back row - V. Nuol, J. Salmon, E. Brown, D. Lord, E. Kruck. Second row - E. Erbs, J. Henderson, C. Warrell, L. Taylor, A. Gillingwater, E. Brown. Third row - L. McCurley (NSW), L. Taylor, L. Merier, A. Merier (Com), S. Johnson, C. Ross, J. B. English (NSW). Front row - R. L. Jackson (Com), H. Franke, E. McGregor (Chairman Q. S. F. A.), J. Cox, D. W. Nicol (Hon. Sec. Q. S. F. A.), L. Scott, W. Betts (Hon. Sec. Q. F. A.).
(StateLibQld)
Soccer team from the Brass Shop at the Railway Workshops, Ipswich, 1924
Brisbane John Oxley Library, State Library of Queensland
Tarrawanna Sweet Hearts -1924-
J. Boyle
H. Spurway, J. Muir, J. Cram, D. Rees, T. Oliver
W. Johnston, H. Winter, D. Ward, J. Gilmore
Judy Masters, A. Creighton, W. Cunningham, G. Storey, A. Veigal
D. McLaughlan
(TROVE)
Thirroul Bluebells 1928 Gardiner Cup winners.
Thirroul Bluebells 1928 Gardiner Cup winners. Back row: W. Reay, C. Taylor, Thomas Edward Chilby, H Mitchell, J. Irwin. Centre row: W. H. Casson, E. Gowans, C. Orr, George Thomas Smithers. Front row: J. Seath, E. Love, Robert Ernest Griffiths, J. Hamilton, A. Rhodes.
(TROVE)
GROUP PORTRAIT, W.A. STATE SOCCER TEAM V CHINA., COTTESLOE OVAL, 11 JUNE 1927
CTS Soccer Team 1928 - Photograph of Collingwood Technical School Soccer Team 1928 with trophy cup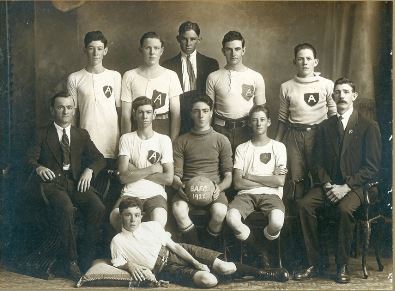 Bundamba Junior Minor Athletic Football Club, Bundamba, Ipswich, 1922
Back row: J Chandler, A Knott, H Kitching, C Bridley (Vice-Captain), R Dobbie. Sitting: J Dowse (President), A Chandler, P Massey (Captain), A Pocock, A Chandler (Vice – President). In front: J Allan. Inset: R Smith, Edred Seymour (posthumous, born 1907 died 1922), E Miller
(Ipswich Libraries)
CTS 1925 Premiers Soccer Team - Photograph of Collingwood Technical School 1925 Premiers Soccer Team with Trophy cup
Booval Pompadours Soccer Football Club, Booval (Junior), Ipswich, 1926
The Coonewirrecoo Soccer Team before a match with Casterton.