GOALKEEPERS-W.ROACH (SA),J.HARPER (NSW)
FULLBACKS-W.OLIVER (QLD),C.WEIR (VIC) - GOALS 1,J.ROE (SA) - GOALS 1
HALFBACKS-C.O'CONNOR (NSW),R.TELFAR (SA),R.BUCHANAN (QLD),J.MARTIN (QLD) - GOALS 2,G.SEMPLE (VIC)F.MCIVER (VIC) - GOALS 2
FORWARDs-H.MUIR (NSW) - GOALS 4,G.RUSSELL (NSW) - GOALS 5,R.JAMES (QLD) - GOALS 7,L.CLARKE (QLD) - GOALS 5,J.DONALDSON (QLD) - GOALS 1,P.LEWIS (VIC) - GOALS 7,J.JOHNSTONE (VIC) - GOALS1,G.HUNTER (SA)
Bundaberg and District Soccer Association 1932
Back row: W.H. Truscott (V.P.), W. Bushell (V.P.) ; second back row : C.E. Beyer (Patron), H. Pazzi, H. Howard, Brian Godbold, W. Allen, W. Lake, Tom Watson (V.P.) ; Sitting : S.J. Roberts (Vice Captain), Bob Anderson, Ben Anderson (Captain), Chaz. G. Lord (Coach), Bob Grant ; on floor : Eddie Jackson, H.D. Anderson (Mascot), J.S. Anderson, Gordon Grant.
(http://onesearch.slq.qld.gov.au)
Plattsburg Public School, 1934. A nursery of talent. Australia footballer Reg Date is on the extreme left in the front row. Photograph: Dr Philip Mosely by courtesy of Thomas Lovett.
Reg Date bagged a staggering 664 goals in his career, either side of the Second World War, scored 11 goals in just eight appearances for Australia
(www.theguardian.com)
Three match tour Australia won all three.
Scoring 21 goals,Conceding only 2.
Australia also played against
Sydney Metro, Auckland, Wellington, Canterbury, Otago, Westland, Taranaki, South Auckland, Waganui, Wairarapa
Goalmouth scramble in the game between New South Wales and the touring England amateur team, Sydney Showgrounds, 3 July 1937. England won 3-1.
NSW v England Amatures played infront of 33000 spectators
Seven days later Australia beat them 5-4 infront of 45000 spectators
(State Library of NSW)
Australian captain george smith leads the team out against the England amateurs.1937
St Helen's Soccer Team from Ipswich, ca. 1930
Players from left to right: J. Williams, E. Wilson, W. Stirling, A. Edwards, R. Skellern, R. Erskine, J. Kenny, J. Greenhill, C. McEwan, J. Henderson, A. Wilson.
(StateLibQld)
Australian team photo -1937
An England "amateur" side toured Australia after a six year negotiating period to get them here. The 'A' was thought impossible to bring to Australia so an English Amateur Team toured in their place. There is some conjecture as to whether these matches were A or B internationals but since the English FA don't recognise it as internationals they are classed as B.
Australia won 2
England "Amateur" won 2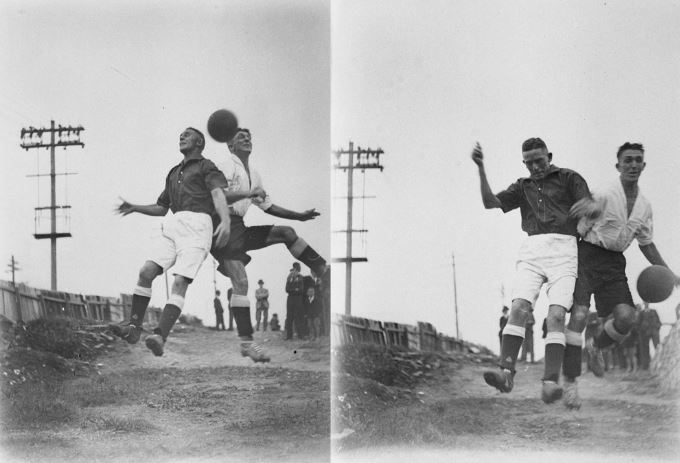 Sam Hood :Photographic collection
Soccer Sydney Streets
1930's
(State Library of NSW)
Wollongong Soccer Club: Winners Langridge Physical Culture Cup, Season 1932.
(Wollongong City Library)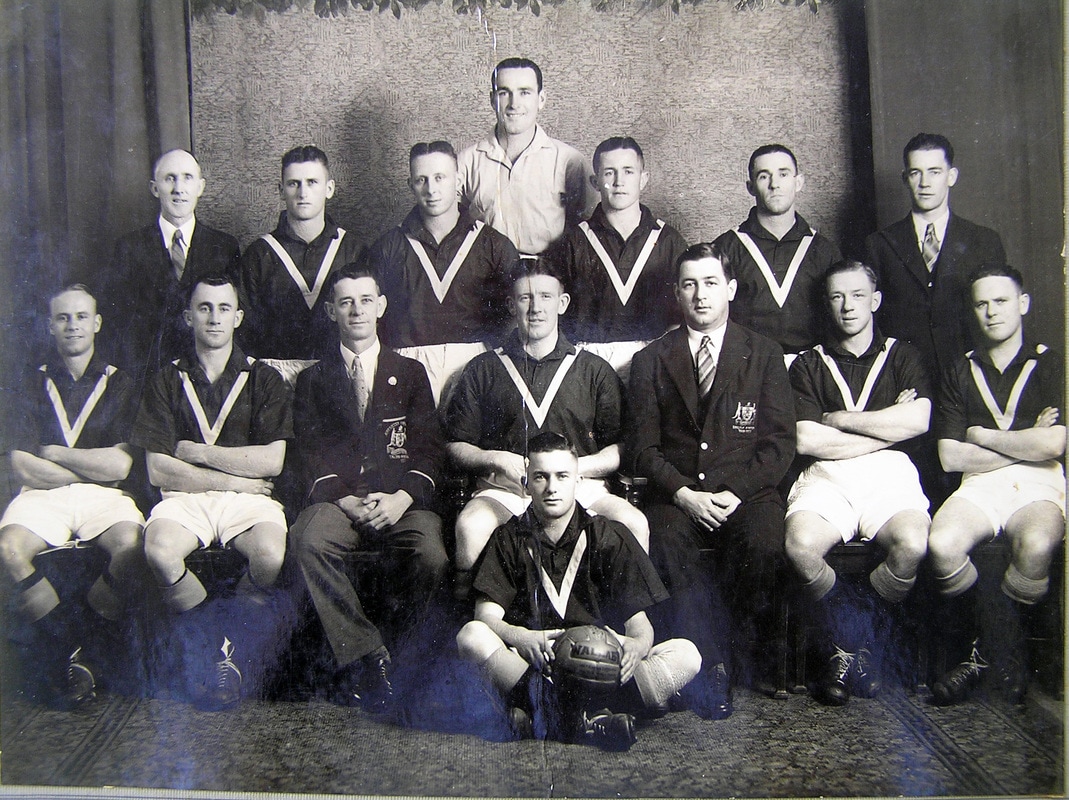 Australian team -1938-
against touring Indian team
Australia played a series of five A internationals against a visiting Indian side. Although a little unorthodox in their tactics the Indian tour proved a financial hit and was a highly competitive series
Back Row.James "Judy" Masters, Ronald McKinnon, Louis Johnston, Alan Hogarth, Stuart Keenan, Garfield Wills, Edward Parker (Med.)
2nd Row: Joe Dalsanto, Angelo Bianchetto, Robert Barwise, Richard Johnston (Man.), Harry Johnston, James Keenan, Norman Tolson
Front Row: Judy Masters (Mascot)
(Balgownie Rangers)
1938
Sydney Showground
(TROVE)

Blackstone Rovers, winners of Juvenile Premiership and Round Shield, Ipswich, 1933
Blackstone Rovers Soccer Club began in 1890 with the growth of community life from the local mines. Back row- E. Jones, H. Jackson, G. Trevis. Second row- J. Hughes, F. Woolley, F. Watson, L. Williams, J. Evans. Front row- J. Parsons, M. Tapp, R. JOhnstone (Captain), F. Parsons (Patron), T. Pennell (Vice-Captain), H. Ramsay, B. Dobbie (Secretary) Jack Dobbie (Mascot). Inset- F. Reeks
(Ipswich Libraries)
Ipswich Junior Soccer Team?, Ipswich, 1935
At a match against the New South Wales Protestant Churches Association. Back row- D. Johnson (Referee), S. Purnell, T. Johnson,R. Jones, J. Maxwell (President), M. Richardson, W. Smith (Secretary), G. Dale, T. Purnell, A. Parsons. Front row- J. Bell (Captain), G. Williams, K. Wall, D. Warren. The team colours were blue and gold.
(Ipswich Libraries)