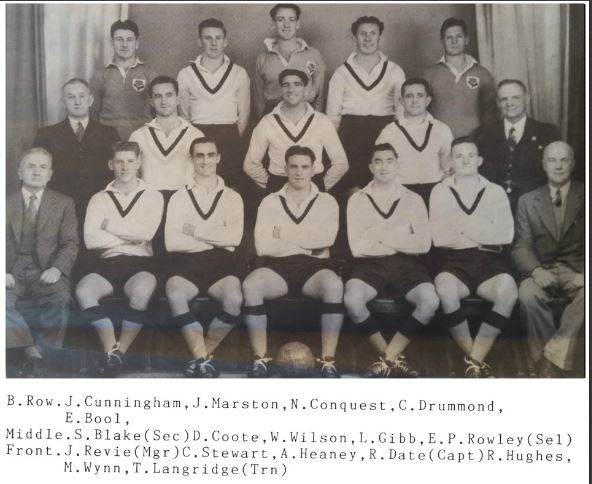 Australian team 1947-
v-
south africa at the gabba
note: M.Wynn can also be seen in the ANZAC gallery sharing a half time drink in MILILAT, NEW GUINEA. 1944
note: 21 year old future captain and Australian footballing icon Joe Marston made his international debut in this series
Merton Rovers' Soccer Football Club, 1949
Sidney Riley ; Brisbane John Oxley Library, State Library of Queensland ; 2004
Undefeated Premiers, 3rd Division, Q. S. F. A. Winners John Fern Cup, 1949.
(StateLibQld)
In 1949 the famous Yugoslav club side Hadjuk Split toured Australia for a series of four matches against the Australian national side and two games against an Australian XI. The Hadjuk Split touring squad included such greats as goalkeeper Vladimir Beara, winger Bernard Vukas and other players including Andrjasevic, Matosic, Katnic, Kokeza and Mrcic.
Photo: of the 1940s Tottenham Hotspurs (Victoria). They were unbeaten for five years in
the 1940s.
In 1941 a Chinese team toured Australia and played a series of five matches against the Australian national side.
Australia won 3 games to China's 2
During the 1947 tour of Australia the South Africans played two matches against an Australian XI as "warm-up" matches.
Back: W Cram, L McCann, R McKinnon, C Coupe, M Barwise and N Barwise;
Front: W Tolson, R Henson, A Miley, K James, & F Dal Santo;
Mascot: Brian Wellington.
Australia lost 1-2 against South Africa in the first game at the Sydney Cricket Ground.
Infront of 40 thousand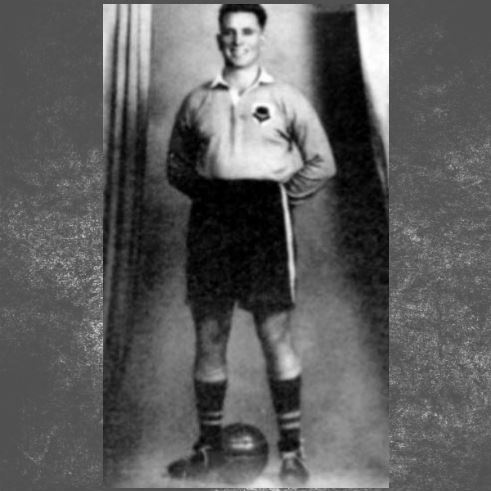 Newcastle native Reg Date is widely regarded as one of Australia's great goal scorers. He started his career with Plattsburgh Primary School in northern NSW in 1930. His junior career included 305 goals with the Plattsburgh club Under-16 and Under-18 teams. Between 1937 and 1953, Date scored 664 goals in competition games, including nine goals in one game, seven goals in two games and six goals in three games. In his junior and senior career, Date kicked a total of 1,616 goals.
(www.myfootball.com.au)
He represented Australia six times when international matches were few and far between. Most of his playing career was spent with Wallsend (from 1937 to 1953), with exception of a three-year stint playing with Canterbury. His most productive years were 1947, when he scored 72 goals in the season for Canterbury, and 1937 when he scored 204 goals for Plattsburgh Under-18s.
(www.myfootball.com.au)
swan Valley Soccer Club – Premiers 1941
(swanvalleysportingclub.com)
Newcastle Police Boys' Club Soccer team during a visit to Ipswich, 1946
The Club visited Ipswich during July and played against an Ipswich team. The reverse of the photograph has the following names: John Parks, Trevor Dumbrell, Twig McKenna (capt), Max Mathieson, Sonny (H) Weaver, Douglas Wendt, E Price, Frank Moloney, Jack Knight, Reg Bennett, Stan Drew.(See Queensland Times article, 20 July 1946 (p7) on Trove for a more detailed account of the visit)
(Ipswich Libraries)
Blackstone Rovers Football Club, Ipswich, 1940
Winners, Reserve Premiership, Q.S.F.A., and runners-up, Brough Cup. Names listed: Team members: Back row- W. Evans, Second row- S. Clarkson, A. Dowell, I. Reeks, R. Gould, F. Tite, J. Evans. Sitting- T. Williams, T. Rush (committee), M. Evans (vice-captain), B. Dobbie (secretary), J. Rush (Captain), W. Parker (committee), V. Campbell. In front- D. McKenna, J. Dobbie