Australia embarked on a two match series against the old foe New Zealand. 1958 was only one year after the Australian Soccer Federation was formed while Australian soccer was undergoing a transitional period boosted by the large number of European migrants who had made Australia home. This was a friendly match.
Australia played host to a three match series against their old foes New Zealand. 1954
Australia won 2 games to New Zealands 1
Wilhelmina DSC – Dockerty Cup Winners 1958
(http://www.shootfarken.com.au)
Melbourne played host to the 1956 Olympics and with it the Olympic soccer tournament. Australia was forced to go into the tournament without a number of it's 'professional' players including defender Joe Marston and midfielder Cliff Almond. Both had just returned from playing professional football in the UK and in the eyes of the then amateur Olympic movement, both players were not considered to be amateur. Australia's preparation was less than ideal although they surprised many with a spirited display in the first round match
Queensland plays New South Wales in a soccer match at The 'Gabba, 1950
In 1957 the Australian side played against three visiting club sides. The three clubs were FK Austria (Austria), Ferencvaros (Hungary) and Eastern Athletic (Hong Kong). The FK Austria touring squad contained Leo Baumgartner, Walter Tamandl, Karl Jaros and Andy Sagi whose improper transfer to Sydney clubs in 1958 ultimately led to Australias suspension from FIFA.
Charles Perkins: Footballer, activist, administrator
Charles Perkins was a pioneering figure in the recognition of the Aboriginal people of Australia. In the 1960s he led the freedom rides which brought discrimination against Aborigines into Australian politics. He was the first male Aboriginal graduate of the University of Sydney. He became chair of the Aboriginal Development Commission and head of the Federal Government's Department of Aboriginal Affairs. For four decades he was one of the most recognised figures across a range of issues affecting the indigenous peoples of Australia. Yet it was football where he first made his name and football which set him on the way to his later achievements
(http://sesasport.com)
Perkins began playing in 1950 with Adelaide team Port Thistle. In 1951 he was selected for a South Australia under 18 representative team. He went on to play for a number of teams in Adelaide including International United (1954–55), Budapest (1956–57) and Fiorentina (1957).
(http://sesasport.com)
The famous English club Blackpool toured Australia in May and June of 1958. The touring party included the great Stanley Mathews who entertained the Australian crowds with his tremendous touch and ability to read a game. Big crowds greeted the team wherever they went and the tour was considered one of the most popular in the history of Australian soccer to date.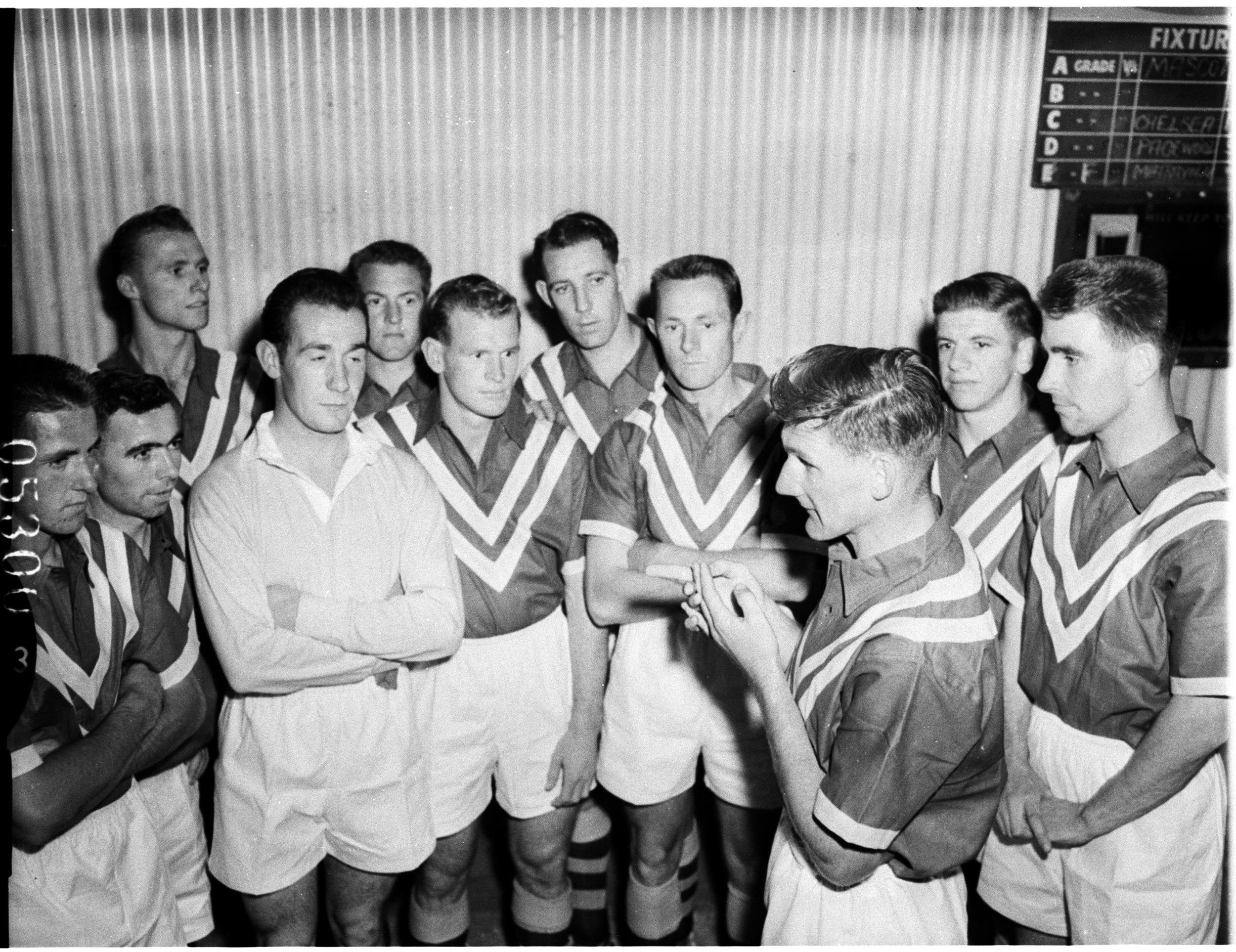 Australian captain Joe Marston has a few words with his team before taking on English visitors Blackpool FC - 1958
A photo of the 1955 premiership-winning Bundamba Rangers side which has historic importance. Among the players were Col and Keith Kitching and Ray Rule, Former Australian player George "Fat'' Kitching was manager of the 1955 team and his son George was mascot. Young George's brother Wally Kitching was the ball boy. Mascot George later became father of another Australian player, Belinda Kitching. Other greats in the successful side included Spencer Kitching, Bob Lawrie, Norm Rule and Graham Kathage.
English great sir Stanley Matthews takes on Australian captain Joe Marston at the Sydney Sports Ground during Blackpool's tour of Australia in 1958.
In 1959 the Australian side played five matches against the visiting Scottish club side Hearts of Midlothian. The tour was the last to take place by a visiting international team before FIFA revoked Australia's affiliation over transfer irregularities with a number of European born players.
Born in 1926, Marston was inspired in his youth by newspaper clippings a Scottish neighbour would thrust his way detailing football in the 'old country'. Little did the young man from Sydney's working class inner-west know what fate the football gods had in store. His dream as a youngster was simply to play for his local club, Leichhardt-Annandale. He achieved that by the age of 18, completing an apprenticeship with a local paint brush manufacturer during the working week. Playing for a club that were regularly challenging for honours helped Marston earn selection for Australia, and he made his debut in the nation's first international after the war in 1947 at the age of 21. A crowd of over 40,000 at the Sydney Cricket Ground for the visit of South Africa
(www.fifa.com)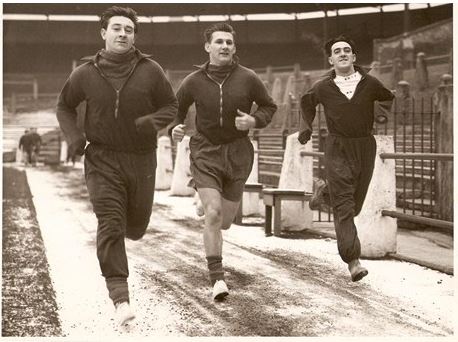 Australia and Preston centre-half Joe Marston (C) training at Deepdale in the snow
Despite his five-year stint in England, Marston proudly represented his country on 35 occasions; a significant number in an era when international matches for a country with Australia's geographical limitations were scarce. With equal pride Marston played club football until he was 38 before embarking on various coaching stints, including a brief spell at the helm of the national team in 1966, claiming the honour of being Australia's first home-grown coach.
(www.fifa.com)
After winning the Second Division and promotion in 1951, Marston and his team-mates, who included the legendary Tom Finney, immediately made their mark among the elite. Indeed, they only narrowly missed out on the English title on the final day of the 1953 season; Arsenal edging them by a goal average of just one. Joe and Edith took a trip back to Australia at the conclusion of the campaign, taking in the FA Cup final in London en route back home.
(www.fifa.com)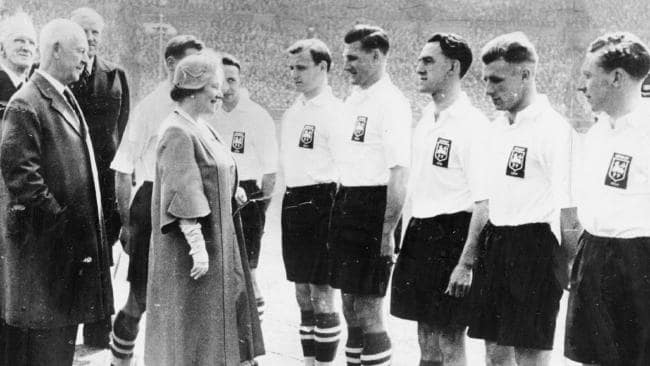 Joe Marston, the first Australian to play professionally in the UK, being presented to the Queen Mother in 1954 at Wembley.
Twelve months later, the unthinkable happened, only for the dream to end with disappointment. A late goal saw West Bromwich Albion take the prized cup with a 3-2 scoreline and Marston still bows his head in regret at narrowly failing to block the decisive goal. The Australian assumed the captaincy from Finney for the following season, which was also highlighted by selection for the England Football League XI against their Scottish counterparts at Hampden Park. It was rare recognition for a foreigner and Marston was the only non-Englishman in the line-up that day.
(www.fifa.com)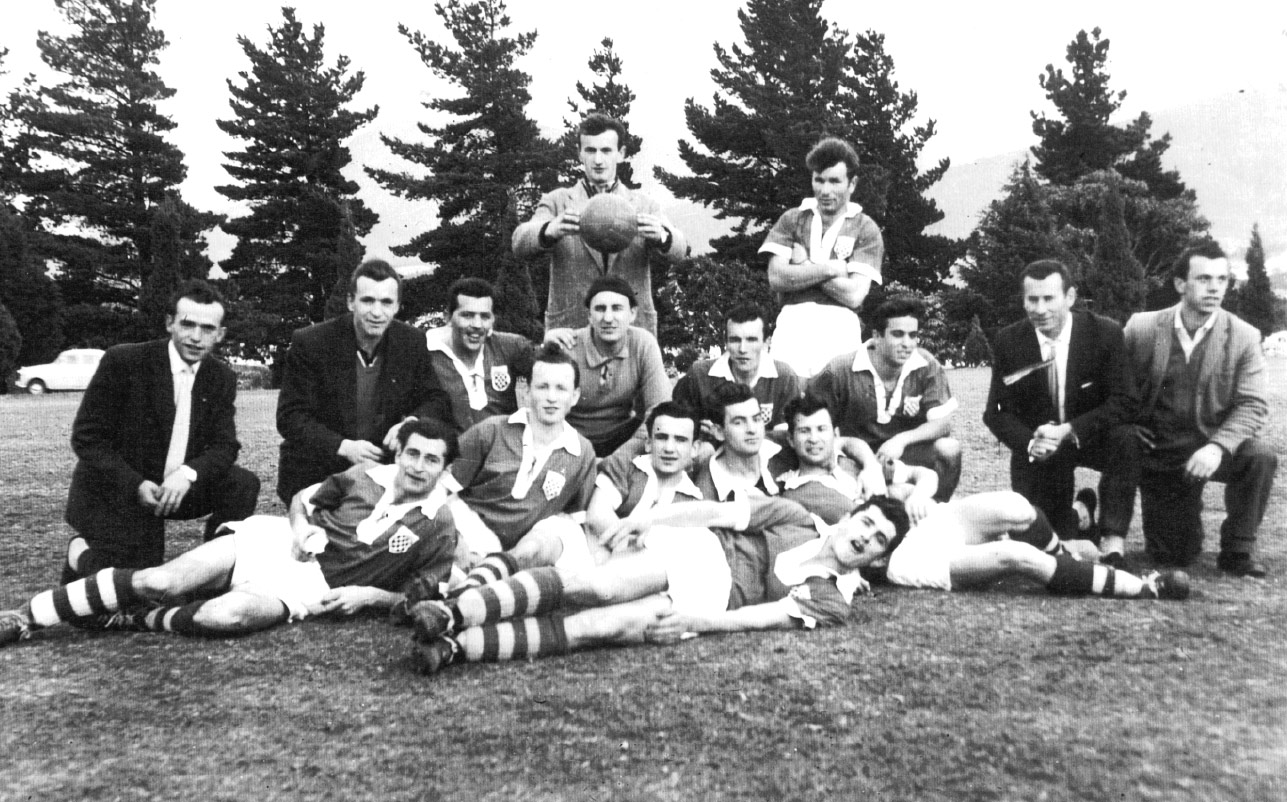 Croatia-Hobart Soccer Club
(Glenorchy Knights)
-1959-
(http://www.glenorchyknights.com)
Four stars of Australian football in the 1950s, Gordon 'Bunny' Nunn, Bob Lawrie, Alan Johns and Reg Date. All four represented Australia.
Photograph: Jack Pollard's Soccer Records
1956- Balgownie Rangers-grade unknown
Back Row: Jack Screen (Man.), Peter Chapman, Thomas Rankin, Robert Rankin, Samuel Ward (Coach)
2nd Row: Alex Caschenko, Graham Kelly, John Kirkpatrick
Front Row: Richard Bell, D. Kello, Jack Screen, Douglas Davison, Ronald Morgan
Morley Windmills Soccer club
1951
(http://www.shootfarken.com.au)